Wondering what can be the best zoom alternative? Because when we hear remote meetings, we automatically think of Zoom Meetings.
True! Right?
Honestly, Zoom has been a great source of collaboration and communication between remote teams during the Covid times. Whether it was the education sector, business sector, or healthcare, Zoom has been a lifesaver for all.
However, now there is plenty of Zoom alternative as well which are more flexible and interactive.
Undoubtedly, Zoom encompasses a wide variety of features including video calling, file sharing, screen sharing, etc. Unfortunately, the meeting time limit is only 40 minutes if you are a free user. Thus, you have to buy Zoom premium if you want to hold meetings longer than that.
Which is kind of a big drawback!
So, it might be a known Software but now you have plenty of other options as well.
In this article, we have jotted down a list of the top 10 alternatives to zoom for HD video conferencing in 2022.
Why Would You Need To Use a Zoom Alternative?
Overall, we'd say that Zoom is one of the best video calling and collaboration software, but it does have a few shortcomings. Let's take a look at some of them
The Post Pandemic Troll Fest
While the pandemic was at its highest rate all over the world, people shifted to remote work platforms. Zoom was, and still, is a popular tool for collaboration back then. However, it also enabled a lot of trolls to hijack meetings and waste other people's time.
It's true that Zoom meetings can be secured through a password and invite-only link. However, you know how passwords leak. Someone shares details with a friend, business leads share them on Public Trello boards, and so on.
As a matter of fact, YouTube is littered with thousands of videos where people hijack important school meetings, business collabs and vice versa to have a good laugh. In this context, we'd say that you're better off looking for a reliable Zoom alternative that isn't easy to "hack."
If your company is running a paid account, the host can save the Zoom meeting for future reference. It's a nice feature to have.
However, unless and until you are not the host, you cannot save the meeting by default. To do that, you'd need the hosts' permission. At times, there are many important meetings that people want to save for taking notes. However, it isn't easy if the host hasn't supported save functionality for that specific meeting.
Free Meetings' Duration Is Limited
If you are running Zoom on a free plan, the maximum duration of a meeting is 40 – 50 mins. It's more than enough for small businesses and agile teams looking to do daily standups. But, in the case of larger groups where the meeting duration can easily go over an hour, the session will be terminated automatically.
Therefore, that's one more reason to look for a Zoom alternative, which doesn't come with such limitations.
The 10 Best Zoom Alternative (s) to Use in 2022
Here's a list of the top 10 alternatives to zoom for HD video conferencing!
1. Microsoft Team
Microsoft Teams is a powerful collaborative and web conferencing tool. It is one of the best Zoom alternatives. The cloud-based tool allows up to 10,000 participants with its most advanced plan.
With Microsoft Teams you can connect with your team anytime and anywhere. Most of the well-known Project Management Software has also incorporated it as their everyday meeting platform. Moreover, it is designed to assist all sectors including education, healthcare business, etc.
Thus, it offers a wide range of features to hold high-quality interactive meetings. Some of its features are:
Features
Screen-Sharing
Email invitation
Digital Whiteboard
Remove uninvited attendees
Group or private chat
File or document sharing
Shared calendar
Custom backgrounds
Team rooms
Raise your hand feature or use other emojis in a meeting
Pricing
Microsoft Teams – free
Microsoft Teams Essentials – $4 per user/per month
Microsoft 365 Business Basic- $5 per user/per month
Microsoft 365 Business Standard – $12.50 per user/per month
2. Google Meet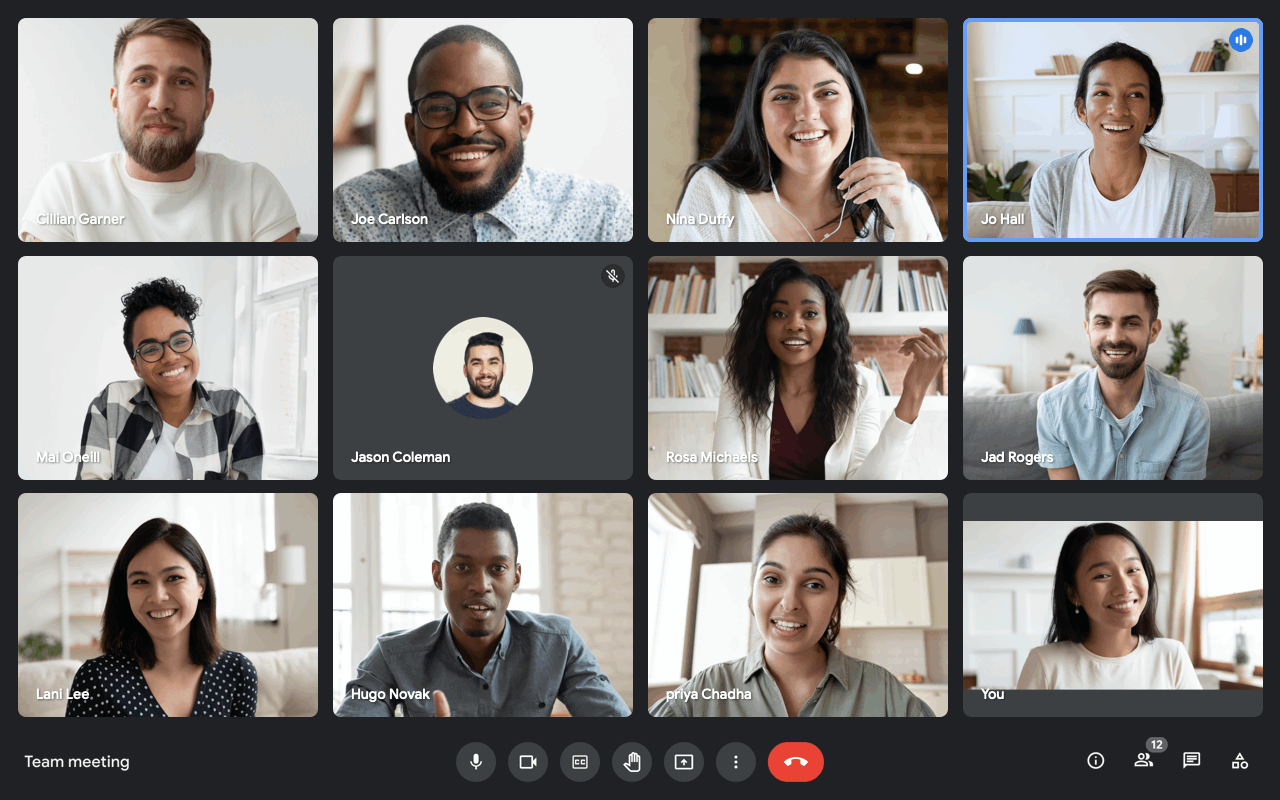 Allowing to start a call with up to 250 participants, Google Meet is the advanced version of Google Hangouts. This Zoom alternative can be accessed both on android and iOS systems.
You can use it with any browser but experience its best performance with Google Chrome. Moreover, you can record and save meetings in google drive or google calendar as well.
Thus, Google Meet is used by a lot of enterprises around the world to stay securely connected and hold frictionless meetings.
The top features of Google Meet include:
Features
Screen sharing
Video or call recording
Share files and documents via Google drive
Custom backgrounds
Whiteboard
Outlook integration
Chat with participants
Pin, mute, or remove participants
Pricing
Google Meet- Always free
Google Workspace Individual -$7.99* per month
Google Workspace Enterprise -Contact sales for pricing
3. Cisco Webex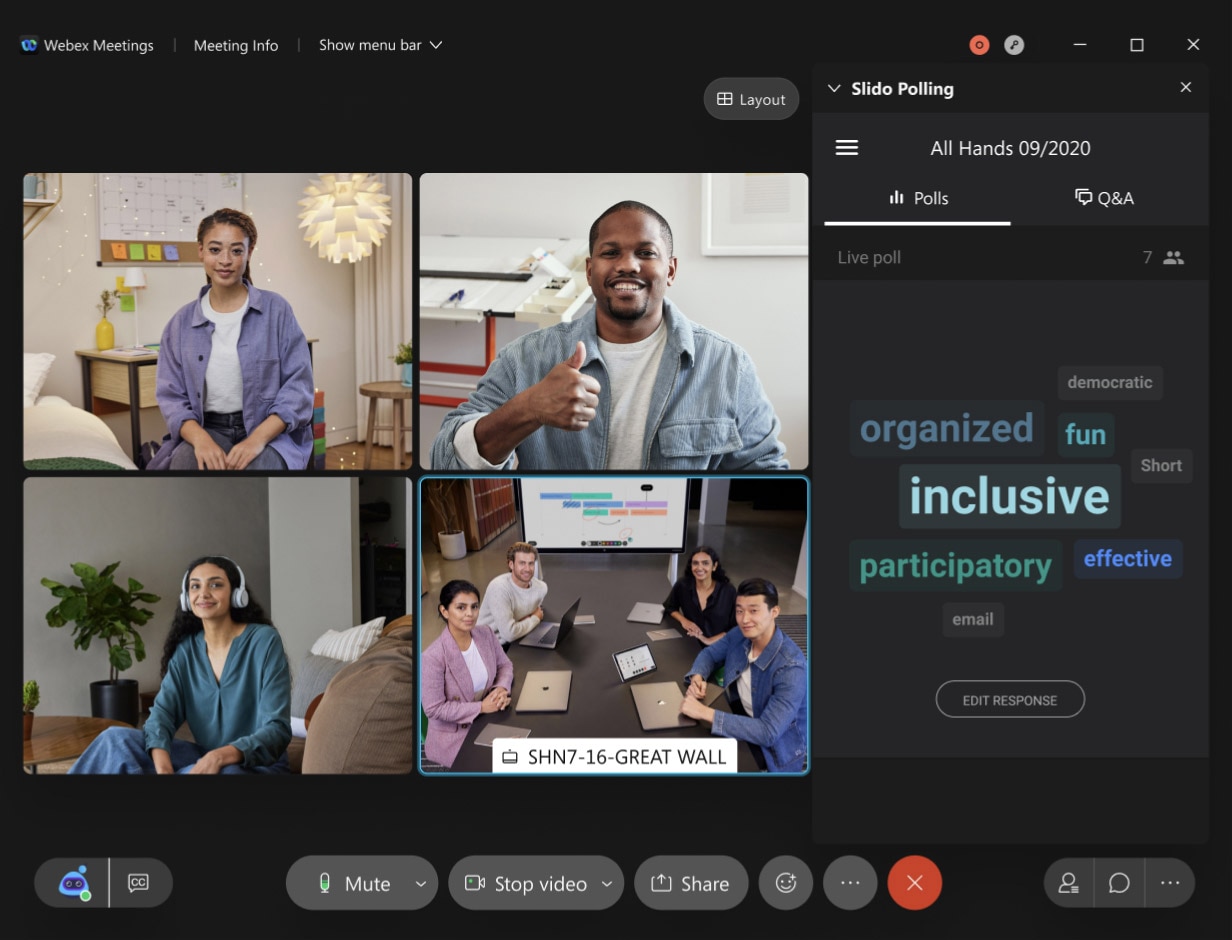 This Zoom alternative provides the best solutions for video conferencing, cloud calling, and screen sharing. Cisco Webex is trusted by 95% of Fortune 500 companies. Moreover, it provides an adaptable, flexible, and secure environment to hold interactive meetings.
Cisco Webex is power-lined with some of the biggest brands to streamline their collaborations. T-Mobile, Under Armour, AT&T, and Puma are some of the known brands on the list.
It has a myriad range of features to help enterprises stay connected in the most agile manner.
Some of the prime features are:
Features
Cloud calling
Noise removal
Gesture recognition
Custom layouts
Instant messaging
Meetings with up to 100,000 attendees
Whiteboard
Record meetings
Pre-built integrations
Pricing
Basic Plan – $0/month
Meet Plan – $13.50/month
Meet + Call Plan- $25/month
4. GoToMeeting
GoToMeeting is a web-based zoom alternative for collaborative video conferencing. With its Enterprise plan, you can hold up a meeting with up to 3000 attendees. You can use it on all devices including your PC, Mac, and desktop.
Thus, it is one of the best platforms to hold secure, reliable, and fast meetings. So, you can use its wide range of unmatched features to empower your remote workforce.
Some of its best features include:
Features
Screen Sharing
Video Conferencing
Record meetings
Whiteboard and drawing tools
Cloud recordings
Meeting transcriptions
Custom backgrounds
Pricing
Professional- $12 per user/per month
Business- $16 per user/per month
Enterprise- custom packages
5. Microsoft Skype
Microsoft Skype has been a popular video conferencing platform for a long time. It is one of the best zoom alternatives for collaborative meetings. You can use it on all devices including Android, iOS, or laptops.
Skype is a useful platform to start video calling. However, the hinge is that you can't add more than 10 participants.
Still, it has a wide variety of features that makes it easy to use and flexible.
Some of them are:
Features
Audio and HD video calling
Smart messaging
Screen sharing
Call recording with live subtitles
Phone calls
Private chats
Pricing
6. Zoho Meetings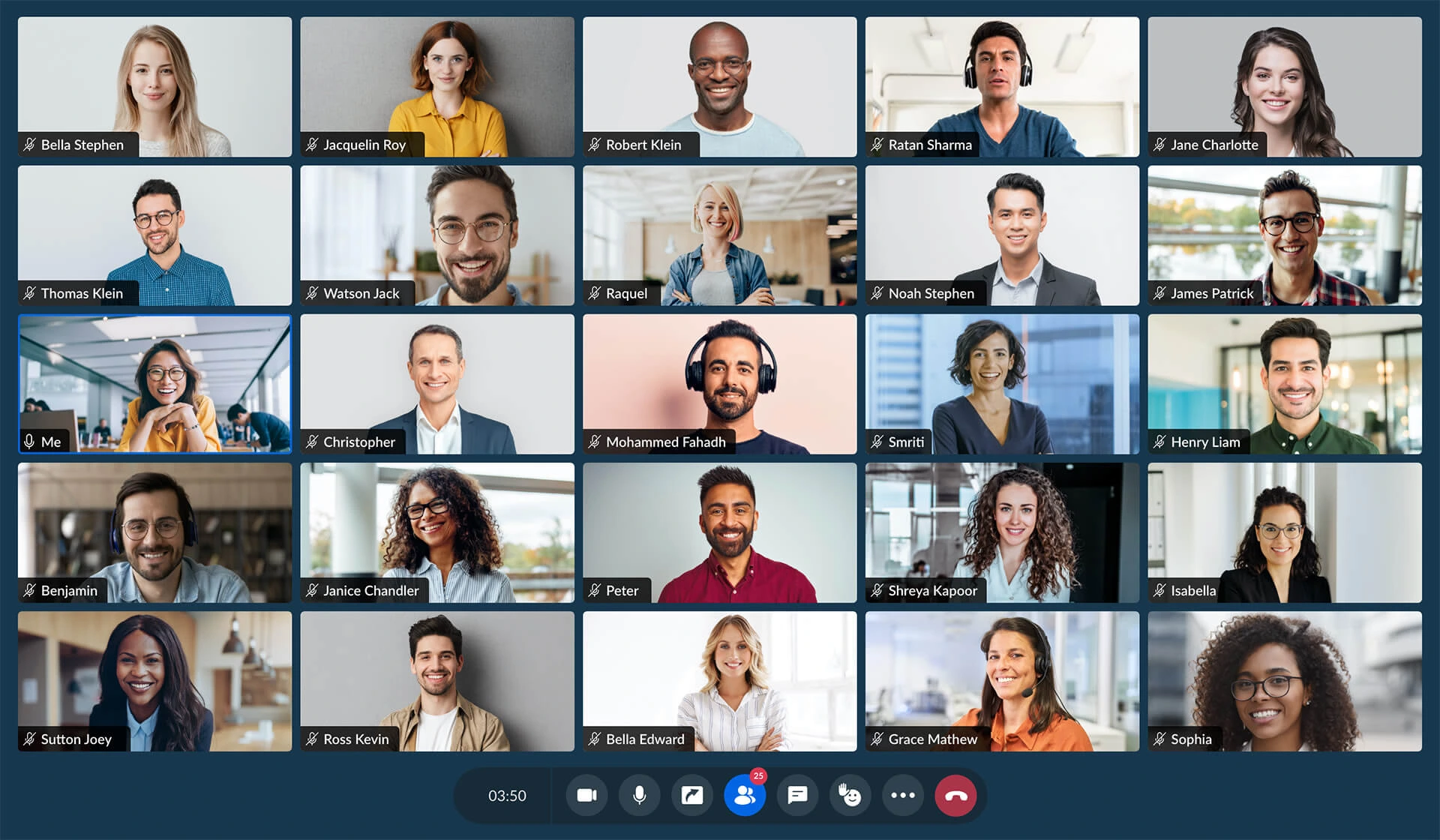 Zoho Meetings is another great zoom alternative in our list. It allows you to hold meetings, webinars, and broadcasts. Available to be used on any device, Zoho allows you to record cloud meetings, download and share them easily.
Moreover, this easy-to-use and scalable software is composed of various interactive web meeting tools. Zoho is trusted by many big companies including CrownBees, IIFL, and MedSpa.
Thus, you can also utilize Zoho Meetings to enhance your remote team workflow and collaboration.
Some of the important features of Zoho Meetings are:
Features
Audio, video, and screen sharing
Connect with mobile devices
RSVP and reminders
Instant meeting scheduling
Webinar analytics
Video webinars
Customize registration forms
Polls, Q&A, and Raise Hands
Lock meetings and password protection
Pricing
Free- $0
Meeting- $3per host/ month, billed annually
Webinar- $16per organizer/ month, billed annually
7. RingCentral Meetings
RingCentral is a great communication and collaboration Zoom alternative to hold virtual meetings. The software allows you to hold up meetings with 500 employees simultaneously.
Moreover, it has catered to more than 400,000 customers and partners globally. Thus, RingCentral Meetings is affordable, easy to set up on any device anywhere.
Take a look at the prime features of RingCentral Meetings below to know more.
Features
Screen sharing
Edit and share files
50 breakout rooms
Whiteboards and annotations
File sharing
In-time meeting chat
Video calling
Record meetings
Pricing
Essential- $14 per user/per month
Standard-$20.99 per user/per month
Premium-$26.24 per user/per month
Ultimate-$49.99 per user/per month
8. Google Hangouts
Google Hangouts is a simple and easy-to-use zoom alternative. You can hold personal or group meetings with up to 10 participants in Google Hangouts.
Moreover, you can use it on all devices and sync in all your chats. Thus, if you have a Gmail account, you can use it easily to hold meetings and connect with your team.
Some of the top features of Google Hangouts are:
Features
Instant messaging
HD video conferencing
Audio and video calls
Screen sharing
Document, file, and image sharing
Connect to Google voice
Pricing
9. Blue Jeans
The next one on our list is Blue Jeans. This zoom alternative will allow you to hold HD video conferences and meetings most flexibly. BlueJeans can allow up to 50,000 view attendees with 150 presenters.
Moreover, it is secure with plenty of interactive features. Therefore, you can streamline your remote collaborations effectively with Blue Jeans.
Top companies like Facebook, Standard Chartered, and Adobe are also using it to hold meetings and video conferences.
The main features of Blue Jeans include:
Features
Record meetings
Virtual background
Screen sharing
Waiting rooms
Secure conversations
Mobile devices and browsers
Real-time collaboration
Dolby's voice
Command center
In-built integrations
Pricing
Standard- $9.99 per host/ per month
Pro- $13.99 per user/ per month
Enterprise- Quote-base
10. Jitsi Meet
The last one in our list of best zoom alternatives is Jitsi Meet. It is designed for small businesses and startups. The best part is that Jitsi Meet is entirely free. You can hold up a meeting with up to 100 people at one time.
Moreover, you can choose to start meeting directly from your google calendar. It is can be operated from various channels including Mac, iOS, Android, Windows, and Web.
Thus, connect with your remote team now with Jitsi Meet.
Some of the important features of it are:
Features
HD audio and video call
Unlimited meetings
End-to-end encryption
Screen sharing
Control other participants desktops remotely
In-built integrations
Pricing
Conclusion
There you have it! I'd agree with you if you think that the features of most of the software are similar. However, you can make a choice based on the needs and requirements of your business.
The post-Covid era has made remote work and conferences a new normal. Thus, it is a prerequisite to have the best software to enhance your collaboration.
The good news is that it doesn't have to be Zoom only from now on.
So, choose the best from our list of the top 10 alternatives.
Wish you Goodluck!