If you were to ask anyone at 'SaaS Tech' for his favorite collaboration tool, Trello would definitely be on the list.
Want to know why? Because the program is simple; comes with an intuitive UI, and an awesome card stack that you can use as a KanBan board to get along with different activities, what more could you ask for? Yes, it is kind of wordy for a sentence, but Trello is an overall well-rounded software.
But then again, despite that wholesomeness factor going on, Trello does have a couple of shortcomings. This post highlights the best Trello alternatives to date. Needless to say, if you are considering using productivity software for a change of pace, or maybe you don't like Trello anymore, this post sums it all up.
What Is Trello & Why Do You Need The Best Trello Alternatives In 2022?
If you have never, ever used Trello before, it's a simple Kanban tool with a visual overflow of all your work activities. For instance, you can visualize the different tasks that you, or your team lead has assigned in a card format.
Trello allows users to drag and drop cards to different labeled lists. For instance, if something's complete and already delivered to the client, it can be dragged from the 'In Process' list to the 'Complete' list. In that order, Trello has a lot more to it than what meets the eye.
Over the last 2 years, when the COVID-19 pandemic situation was at its absolute worst, people jumped to different collaboration software, such as; Zoom, Trello, Asana, Microsoft Teams, and vice versa. During the brief lockdown period, Trello, and the best Trello alternatives' overall user traffic reached an absolute high – all thanks to different users from all over the world.
The Kanban centralized interface and methodology just "clicks" it right away for many users.
The question is, why would you need to look for the best Trello alternatives to use in 2022?
One main reason to look for the best Trello alternatives is added workflow requirements coming in from MNCs these days. Since Trello's main takeaway is the Kanban board itself, it doesn't offer much in terms of extensive project management processes. While you do have timelines, as in you can insert timers for each card, you do not get workflow automation or project planning activities in Trello.
Above all, there are over 600 different productivity software out there, but all of them are not equally reliable. Monday.com listed a lot of applications that qualify the productivity criterion, but only a few of them are truly worthy of hardcore project managers out there.
That's why we wanted to list down the best Trello alternatives for people who want to do more than just shuffling cards in Kanban view by default.
The 5 Best Trello Alternatives To Use In 2022
Before starting, here are two important questions to answer:
Can You Use Google as a Trello Alternative?
Does Microsoft Have Something In The Form of The Best Trello Alternatives To Offer?
We can tell you that Google has 'Keep' and Microsoft has the signature 'Microsoft Planner' tool. Both of them are like a league in their own way, but those apps operate in silo formation.
In Google Keep, you can share certain cards with users and create custom labels. You can also set reminders, but there's no way for project admins to set deadlines or have a default Kanban view for visual workflow estimates.
Moving on, Microsoft Planner offers a mix of collaboration tools and task management. The collaboration tools are based on the Kanban board view, which is cool by the way. But, if you are looking for advanced project management tools with a focus on task-to-task responsibilities on task assignees' end, detailed timelines, and vice versa, you're out of luck.
1.     Asana
Asana doesn't need a formal introduction these days. They are known as the best project management tool company to transition to different forms of project management offices. As one of the best Trello alternatives, Asana offers Kanban view, card owner details, 158 integrations, and timeline view. That's part of the deal if you are going for a Premium Asana plan.
Other functionalities are a blend of intuitive UI and UX experience bundled with advanced project management features. For instance, the Board view tab in Asana has not only the basic Trello-like functionality but there are many automated perks that you won't find easily in Trello.
Then again, the use cases attend to multiple task owners with complex projects and large teams with dependent tasks, etc. In terms of these use cases, we'd say that Asana is one of the best Trello alternatives right now.
You can use this tool to integrate with Slack, Office 365, and Salesforce to keep your A-game to the top.
Pricing:
Free Asana plan supports up to 15 users at a time
Paid plan, known as Asana Premium, starts at $10.99 per user, per month
2.     Airtable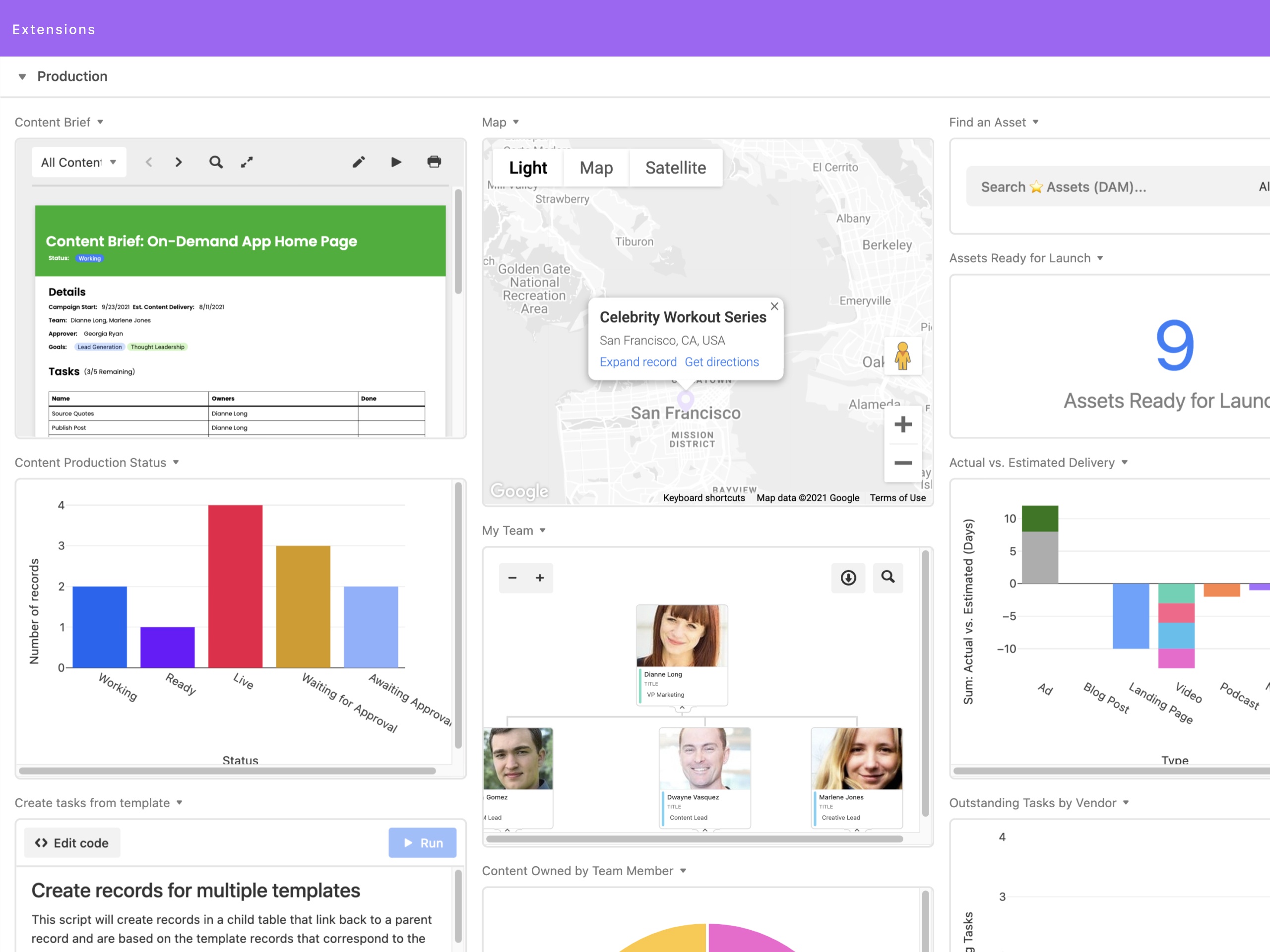 Airtable is another reliable Trello alternative that a lot of project management teams use. It is like Microsoft Excel with a twist of project management, Trello-like functionality, and some of Airtable's very own signature features.
First off, if we do the Airtable vs Trello comparison, we'd say that Airtable also has Kanban view, integrations, calendar view, and many other perks. You can see the Card Owner's name; his respective tasks in different cells.
These cells can be customized to represent check-marked to-do lists, bulleted lists, numbered lists, and much more. As far as Airtable vs. Trello integrations go, the latter only has 50+ integrations, whereas Trello has more than 181 integrations through the Trello Gold plan.
But then again, Trello happens to have more integrations because, at its core, it is just a Kanban tool. Therefore, to help larger teams, they introduced integrations with 3rd party apps to make overall workflow a seamless experience.
As far as the typical user experience goes on Airtable, you get a powerful version of Excel. Saying that Airtable is more like Microsoft Excel on steroids wouldn't be an understatement.
Pricing:
Free Airtable plan supports 1200 rows and 5Gb of storage space.
Airtable Plus starts at $10 per user, per month respectively.
By the way, Airtable does offer more than 1,000 3rd party app integrations. But to use those integrations to the full extent, you're going to have to depend on Zapier. It's another platform for project managers, task managers, and app developers, etc.
Airtable's use cases comprise people who like working with spreadsheets, and many different companies that need access to organized data with a sense of automation on the side.
3.     Basecamp
Next up on our 'best Trello alternatives' is Basecamp. Since its inception, the program has transitioned to many different versions – each one bringing project managers one step closer to flawless projects.
Unlike Trello, Basecamp does not have a Kanban view. But, there are other workarounds on this platform where you can see card owner details, use workflow automation tools and depend on integrations to get things done quickly.
Speaking of the GTD factor, Basecamp comes with powerful collaboration features. You can engage team members in any conversation through the real-time group chat feature. Other collaboration tools in different project management apps, which we have used so far, do not have a real-time chat system. While you can use the @ mention to highlight task assignees in different PM software, talking to someone in real-time doesn't get better than what Basecamp offers.
Pricing:
Basecamp has a 30 day free trial for evaluation purpose.
Paid plan starts at $99 per month, per company.
Moving on, Basecamp use cases comprise different users looking to reduce the cost of per-user pricing solutions, and companies on the lookout for team-based activities.
By the way, Basecamp was formerly known as 'Campfire'. Therefore, if you are confused about whether it's Campfire you should be using, or the latter platform, it's basically the same thing.
4.     Jira
As one of the best Trello alternatives out there right now, Jira doesn't need a formal introduction. They work under 'Atlassian's umbrella, which is a famous company for many other online solutions.
The interesting thing to know from a general knowledge perspective is that Atlassian is Trello's parent company. So, if they are up to something to release a better version of Trello under a different name, don't be surprised.
Anyhow, when compared in terms of the Jira vs Trello analogy, you get the standard Kanban view, card owner details, more than 1000+ integrations, which is a big advantage over Trello, and much more. The area where Jira outshines Trello is the combination of Agile development tools and SDLC tools for professional project management teams.
You get a phenomenal user experience spanning over an intuitive board view, GitHub, AdobeXD, and other platform support, and a version release log for different users.
Pricing:
Jira is free for up to 10 users.
The standard plan starts at $7 per user, per month.
For enterprise solutions, don't hesitate to contact Jira's customer support at any point. Jira's use case covers hardcore software development teams with a focus on lean Agile project management. You can also visit Jira's official blog to keep tabs on the latest updates at the company.
5.     Microsoft Project
Of course, when it comes to the issue of offering the best Trello alternatives, Microsoft is a company that isn't far behind in the race.
Therefore, we've got Microsoft Project. It is an enterprise project management software for MNCs, large businesses, and teams with tons of users from all over the world.
The interesting thing about this platform is that its access is offered as part of the Windows 11 Enterprise edition OS. If you are using Win 11 already, have someone from your company contact Microsoft for granting access to 365 suite, Microsoft Teams, Microsoft Project, and a slew of many other tools.
MS Project comes with workflow automation support, only 17 native integrations, which are way less than Trello's, and timeline + sprints view. The latter isn't offered by Trello, so Ms Project definitely takes the lead there.
User experience-wise, you are looking at project grid view for easy task assignment, board view, and a simple UI with minimalistic design aesthetics.
Pricing:
Microsoft Project's standalone basic plan starts at $10 per user, per month.
It is part of the Windows 11 Enterprise deal, so you can contact Microsoft for access. However, additional apps are billed according to their respective paid plans.
Lastly, if we were to talk about Microsoft Project use cases, they comprise many companies already using Microsoft apps, and Office 365 users.
At The End of the Day
In the end, if you need the best Trello alternatives for any reason, make sure you have listed down your requirements, or your company's requirements beforehand.
Many users buy this software on a whim, only to find out later that the program's functionalities aren't enough to fulfill the business's requirements. Also, we'd implore you to read project management app reviews, and comparisons to get an overview of what different popular platforms are offering right now.
In case you don't see your best Trello alternative on our list, feel free to mention it in the comments section below. We look forward to hearing from you.
Good luck.