It's 2022, and the world narrative about paper money is drastically changing and making way for the much-needed digital independence for anyone that traveled 10 miles from home and forgot their wallet in their drawers. Oh C'mon, I can't be the only one who suffered 😅.
Not fully implemented in Asia right now, but the best digital wallets that we are going to talk about in this article today have been raving in Europe and the United States for a while now.
And why shouldn't they?
These digital wallets are secure, extremely portable, and with lightning-fast transactions speeds wherever they are used, these digital money carriers will soon be the only payment option available to everyone around the world.
Don't care to know about them much? Well, according to the latest reports, the transaction value of all these amazing digital wallets or mobile payment apps is going to reach $14 trillion by the end of 2022.
Do you want to know about them now? Thought so.
In this article, we are going to talk about the 7 best digital wallets that you can check out in 2022 for all of your online or in-person payments. Let's begin.
7 Best Digital Wallets to Use in 2022
Here is a list of all of the amazing digital wallets that we are going to discuss in this article.
Google Pay
Facebook Pay
Venmo
WeChatPay
Apple Pay
PayPal
Amazon Pay
Let's discuss these incredible digital wallets in detail and find out which ones are best suited for you according to your needs and requirements.
1. Google Pay
Starting in 2015, Google Pay is an incredible e-wallet that allows you to make all of your online or in-person payments through your various android devices. Available in 28 different countries around the world, Google Pay has some amazing benefits that you need to check out.
Benefits
The payments that you perform using this method are safe and secure
The checkout process on the web or the mobile apps is lightning fast
The transaction history is easily viewable to check out any and every expenditure that you perform
Easy API integration
There are no additional charges to use the application
2. Facebook Pay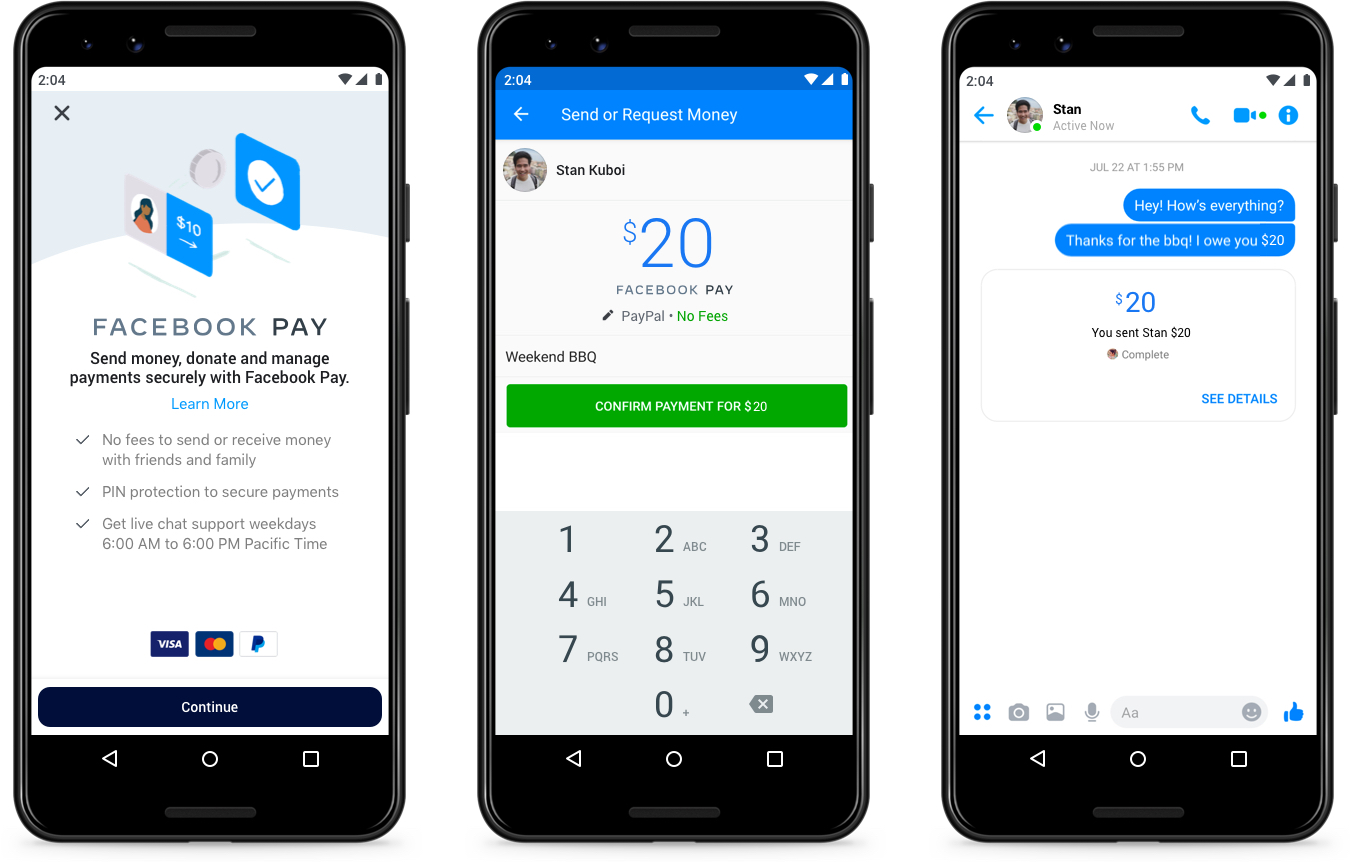 Another amazing digital wallet on the list is Facebook pay. This service allows you to spend your money on anything online, including but not limited to, Instagram, Messenger, and WhatsApp. Here are some of the benefits that Facebook Pay has to offer.
Benefits
This amazing payment method is incredibly safe, regardless of the privacy accusations that Facebook has been facing for years
You also get notifications for all your proactive in-app transactions
If you are having any issues with the payment service then you can always call customer support or email them
You are charged absolutely nothing while sending or receiving payments on WhatsApp or Facebook
3. Venmo
Probably one of the most famous applications on the list is Venmo. This amazing digital wallet is the bandleader in the social commerce paradigm and can help you and your friends quickly pay their dues or receive payments through the credit or debit card that they have stored on the service.
Venmo was designed to focus more on payments than anything else, and that function is also more focused around your immediate social circle. Let's take a look at some of the benefits that Venmo has to offer.
Benefits
The application helps you to receive and pay payments to approved merchants that are verified and are not going to scam you
You can easily share or make payments with your social circle regardless of their location
The service uses encryption to protect your account information so that all of your payments are safe and secure
A standard 3% fee is charged for credit card usage on the service
4. WeChatPay
As you know that WeChat is an incredible payment application in China with over a billion people using the application on a regular basis. It's also one of the best digital wallets to date.
The cool thing about this payment service is that it helps the merchants and normal people like us reach a large number of prospective customers from within a single interface. Let's take a look at the benefits that this amazing digital wallet has to offer.
Benefits
The application is extremely secure, intuitive and convenient to use by any user regardless of their age or power of understanding
There is no bank account required when you use the WeChat wallet to make payments
The application is easy to navigate and the method for complete payments is child's play
5. Apple Pay
Oh, Apple. Well, of course, you know Apple and their wonderfully incredible digital wallet that is easy and reliable to make all of the secure payments and purchases that you can want without even a slight hiccup.
The platform is amazing if you want to receive and send money to your loved ones right from the Messages application on your Apple device. Here are some amazing benefits that the service has to offer.
Benefits
One of the best things about the service is that the card information is never shared or stored with the merchants that you are making your payments to
The service is incredibly in-sync with the times and supports contactless payments
Even if the credit or debit card of the user is involved, the transaction details are never stored by Apple Pay
6. PayPal
Well if you don't know about PayPal, then you have been living under a rock for the last 20 years. The application is the OG when it comes to the best digital wallets. To that effect, PayPal is still one of the most preferred and revered online wallets that are available in the market right now.
The application is present in over 200 countries and has been dominating the consumer chart with over 250 million customers worldwide. Here are some amazing benefits that this digital wallet has to offer to its clients around the globe.
Benefits
You only need to have a single PayPal account for shopping globally or locally
There is convenient 180-day buyer protection where the buyer of the item can get their entire money back on the purchase that they made
Before Using PayPal, Here's What You Need To Know
Overall, PayPal is a very secure platform to work on, but it does have a few shortcomings. PayPal has currency limits that trigger a certain validation check on your end.
For instance, if you are a medium or small-level freelancer who only receives up to $500 in his or her PayPal account, things will be okay. In some countries, if you have received $1,000 or more than $1,000, PayPal will put a hold on your account and ask you for documents to verify your identity.
While it does seem like a situation where PayPal, as one of the best digital wallets, is keeping your money hostage, do know that it's for your own good. In the worst-case scenario, if your account isn't verified, and you fall victim to a case of identity theft, then it can also compromise your PayPal account.
However, the same feature has also put a lot of businesses in jeopardy over the last few years. PayPal has this standard account verification and a large transaction verification process for added user-level security. We get that. But, the company is also notorious for delaying the identity verification process and funds release for up to several months.
This delay has caused tons of people to stop using PayPal. As a convenient digital wallet, PayPal is doing a great job already. However, if you dabble in dealing with large transaction amounts, do prepare for the worst in advance. If your account gets locked for several months, what would be your backup plan?
Food for thought.
7. Amazon Pay
One of the fastest and widely accepted online payment services that you can find in the market right now is Amazon Pay. The service is robust and convenient while shopping on Amazon or any other large to non-profit organizations that accept the payment method.
Benefits
The payment method can help you to make online purchases thousands, if not millions, of websites with a single Amazon account so that you have all of your information in a single interface
The purchase that is eligible in the Amazon interface have complete protection while using the digital wallet Amazon Pay
Honorable Mention: Escrow.Com
Escrow.com is one of the most secure and the best digital wallet to date. If we were to recommend an alternative to PayPal, Escrow would be it.
They don't bother people with account verification delays. You can deal with online transactions up to millions of dollars. The best thing about this platform is its multi-level security and identity verification check, which is executed at the time of creating the account.
Escrow is ideal for people who flip high-traffic websites. In such cases, the website's details are shared with the buyer, whereas the buyer sends the money to be released to Escrow.com. Once, the buyer confirms that he or she has received the website access credentials and all the necessary documents, Escrow, releases the funds to the seller.
That's their usual modus operandi. Therefore, we think that it's the perfect platform for anyone looking to send or receive money regularly.
Conclusion
These were our top picks for the best digital wallets that you can use right now in the year 2022. If you think that you have used a digital wallet that is more incredible in terms of usage and overall performance, then write to us and we will make sure to check it out and include it in our list.