Over the past decade, more and more people are looking for the best project management software. In the current environment, where work has gotten very complicated, complex, and hard to keep track of, the best project management software is used to help keep things in check.
For most companies, big or small, project management software is a must. The best project management software has proven that they add immense value to businesses for multiple reasons.
Most organizations have multiple employees and multiple projects running at the same time. Furthermore, many of these employees are working on different projects at the same time.
It is nearly impossible to keep track of everything ranging from workload to deliverables to meeting targets and deadlines, generating invoices, tracking progress, and managing quality. This is where the best project management software comes in.
What Is Project Management Software?
In essence, project management software helps you get started with the project: create small and measurable deliverables for that project, keep track of the deliverables, complete the deliverables and conclude the project.
On the surface, it may look very simple but a lot goes into the best project management software out there. Usually, there are many people working on a project and many simultaneous tasks being formed at the same time. Project management software helps keep everything a line for each of these individuals and tasks.
Project management apps range on a very wide spectrum. All the way from very basic apps to help manage small projects of single-digit teams to managing dozens of projects and thousands of employees.
How We Choose the Best Project Management Apps
In this article, we have considered all the project management tools that are available. This includes free versions of the applications as well as the paid ones.
Some of these applications are often considered as collaborative working tools rather than project management tools but we beg to differ.
It is our understanding that a lot of small and large organizations often use collaborative working tools as project management applications because the combination of the features offered by these powerful apps fulfills their requirements.
We have considered applications that can start projects, track their progress, schedule and organize meetings and deadlines, set priorities, and include various tools like Gantt charts for a timeline view.
What Are The Key Features Of A Project Management Tool?
A project management app can be the difference between the successful execution of a project and a complete disaster. So it is imperative to choose the right project management tool.
Unfortunately, there is no one application that can be considered the best. Rather, the right project management software depends on what you need. This can vary heavily depending on the number of team members, the number of projects, and the other applications that need to integrate for a more effective workflow.
Based on our research, we have gathered the 10 must-have features in a project management tool.
10 key features that should be included in a project management tool:
Creating projects and assigning members
Assigning tasks to team members
Chats and discussions on the tasks
Secure file storage
Tracking project progress and history
A separate dashboard for clients' view
Project roadmaps
Ability to attach documents and links
Gantt charts
Assigning task priorities
What Can You Do With a Project Management App?
Project management applications are used for complex project-based work. These applications are used to manage and control complex projects with multiple tasks, team members, and systems of getting tasks completed in a specific order within a specified time frame.
Project management tools are generally used by organizations that have multiple projects running simultaneously. The application helps keep track of work done, work yet to be completed, the human capital required and the budget needed.
Some common uses of Project management applications are:
Marketing campaigns
New product launches
Construction projects
SaaS tools
Website launches
The need for project management applications stems from the complexity of the work. The best project management apps help you anticipate any problems or issues that may arise during the execution of the project.
These applications are also useful in tracking the progress of any project. For example, a good project management tool can figure out that the deadline will not be met based on the current pace so you can reassess the timeline and adjust the deadlines accordingly or figure out where the bottlenecks might be occurring in the workflow.

The Best Free Project Management Software
Trello is the best project management software if you are looking for an application that is free. The free version of Trello is sufficient for most small businesses and offers all the necessary features that you may require.
The best thing about Trello is that it allows you to add up to 10 team members per project. The way Trello works is that it breaks down and simplifies your workflow into three main categories:
Boards
Boards can be seen as team departments or projects. You can add up to 10 team members on a single board in the free version. Each board will have cards and each card will carry lists.
A Board is your homepage so it is the first page you see whenever you open up the app. A Board defines which team you are a part of or which project you are currently working on. You can have multiple boards meaning you can work on multiple projects in multiple teams concurrently.
Cards
On the Board, you have multiple cards. Cards are used to define each stage of the project. Cards help you navigate the project more efficiently. You can move cards around and reorganize work if need be.
Lists
Lists refer to the particular task's finer details. It can include information like:
task description
its due date
current status
checklist
add links
make comments or have discussions
attach documents
assign labels
view and even edit team members.
Trello is very intuitive and user-friendly. It is very well designed and offers a great visual layout. It has great platform support as it is available on Windows, macOS, Android, and iOS.
Trello is a great project management software if you are working alone or have a small team. The only real downside to the free plan is that it has less integration with other apps like Slack or Google docs and features like Gantt charts are only available on the paid version.
In the free plan, you can create unlimited Boards, Cards, and Lists. If you are looking for a project management tool and currently do not have enough funds, Trello is definitely worth serious consideration.
The Best Project Management Apps for Small Businesses
We have found that the best project management software for small businesses is Asana. Just like Trello, there is a free version of Asana available and it goes beyond what Trello offers, in that, you can add up to 15 team members instead of just 10.
Asana also offers more than just one view for team members. So any individual working on the project has the option to view their projects based on cards, calendars, or lists. Asana is very simple to use and is best suited for small businesses and startups.
The best features offered by Asana include:
Pipeline, milestones, and roadmaps
Project dashboard for a quick view
Track team and individual progress
Filing and tracking bug reports
Assignment of tasks and teams to projects
Gantt charts
Internal discussion, note sharing, and feedback
Unlimited file storage (paid version)
Asana is focused on projects. Each project is at the center and tasks are categorized into sections. These tasks can have assignees, tags, comments, and even sub-tasks.
One drawback of Asana is that you can not see an overview of all tasks in a project.
Asana is available on Windows, macOS, Android, and iOS so you do not have to worry about which operating system you are using.
Pricing:
Free up to 15 team members
Paid plan with $13 per team member per month on a premier plan. This is discounted to $10.99 per user per month if the amount is paid annually.
The business plan is a lot pricy at $24.99 or $30.49 depending on whether you monthly or annually.
The Best Project Management Apps for Large Organizations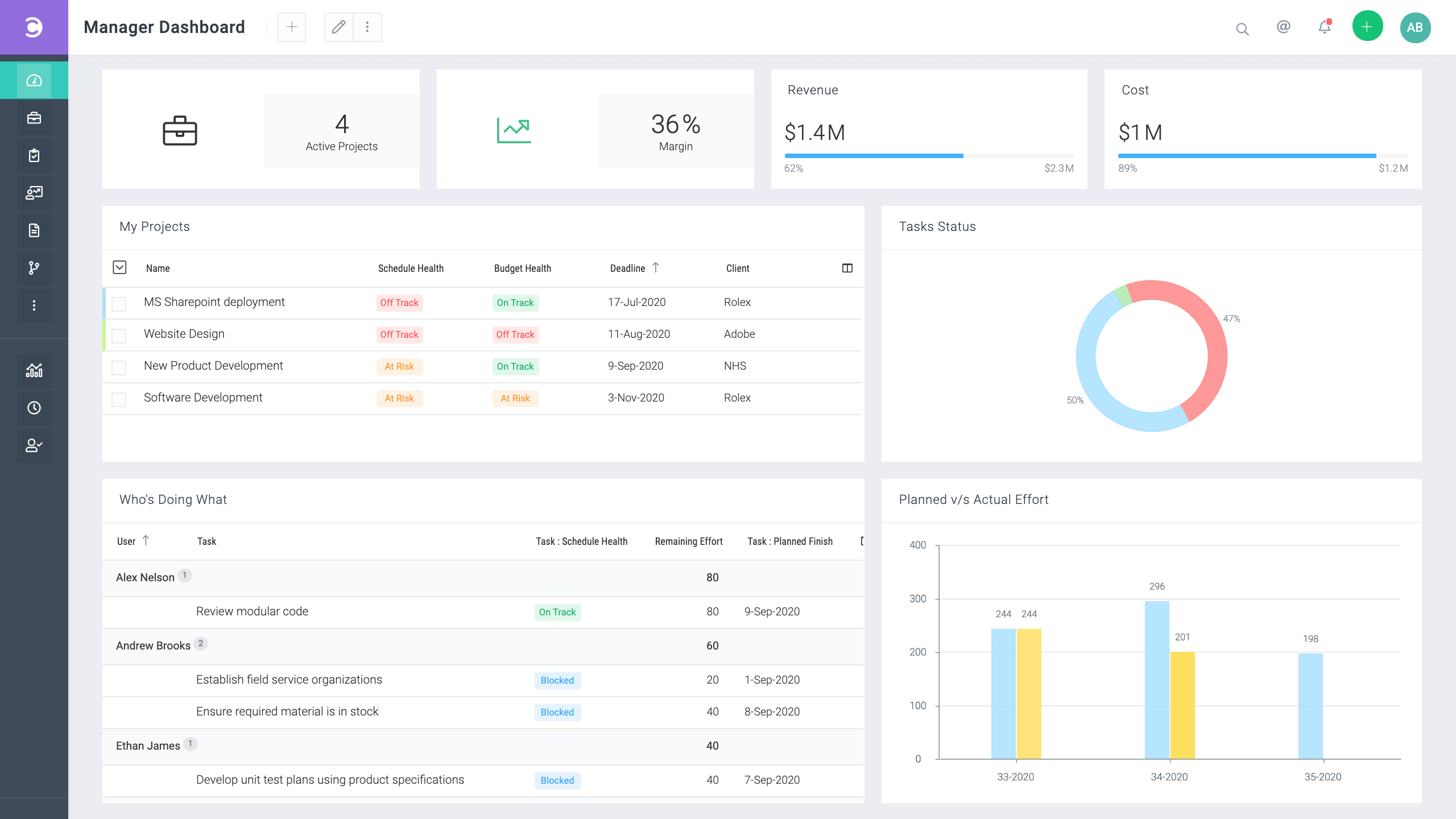 Our pick for the best project management software for large organizations in Celoxis. Celoxis has the ability to add a lot of value to your organization with its project management capabilities.
The runner-up in our testing was LiquidPlanner, which holds its own but we concluded that it was a lot pricer and way too difficult to set up which makes it a harder sell over Celoxis.
Celoxis is very easy to set up and is very good value for money. It offers a 30-day free trial but sadly there is no free version of the application available once the trial runs out.
The main features offered by Celoxis are:
Fully customizable dashboards
Burn-down charts give you a quick view of how much time is left for the amount of work that still needs to be done.
Resource management tools that help you determine the workload assigned to each team member
What-if analysis tool that can help predict the impact on resources and employees if a certain action is taken or a decision is made.
Ability to create custom applications like a quality assurance system or a bug reporting and tracking tool.
Celoxis also offers the option to restrict users to limited information
Unlike some other applications, Celoxis runs directly in the browser and there is no dedicated application for it. Luckily, you can run it on your browser on your smartphone too.
Pricing:
30-day free trial but no free version.
$25 per month per user for the cloud-based version. This option comes with only 2GB storage per person but it is pooled together and you can add 10GB for an additional $10.
Discounts are offered for long-term commitments and upfront payment.
The higher tier version is called the 'On-Premises' plan' which sets you back $450 per person but this is a one-time payment with one-year support included. Additionally, you can opt for updates and upgrades if you agree to a fee per year with a service contract.
The Best Project Management App With Special Features
There are times when choosing a project management tool is much more difficult. An example is when certain special features are required that are not generally available in a project management application. In these cases, there is one application that stood out to us the most.
ClickUp is our pick as the best project management software with special features. It is designed to handle multiple team members and projects at the same time. Our favorite feature about click-up is its ability to present all communications in a seamless and elegant manner.
Best features of ClickUp:
Fully customizable notifications including when, where, and how notifications are received.
Automated time tracking
Integration in more tools and applications than you can count. This is imperative when you need something with special features. For example, if you need a billing/invoicing system, ClickUp can not do this on its own but can integrate with other applications like Stripe.
Automated scheduling
Identifying bottlenecks, managing and estimating the time of completion and task dependencies on other tasks
Workflow customization with workflow stages for a better understanding of the current status of the project and specific tasks.
Pricing:
$9 per user per month